Industrial gases
Industrial gases are gaseous materials used in industrial production. Industrial gases first appear from the wild by humans was discovered as a breath of air as burning flame to ignite.

Most of the raw material gas at room temperature and ambient pressure is provided in the form of compressed air. A compressor is used to compress air into storage pressure vessel through the pipeline system. However, some gases is vapor possible to be liquefied at ambient temperature with a compression pressure . In exceptions case, cacbon dioxide can be produced in solid form as dry ice cold.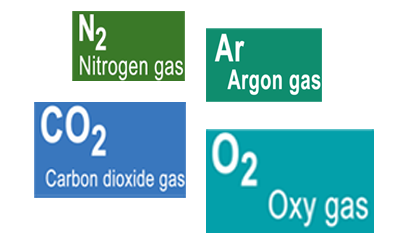 Industrial gases are sold in gas cylinders and some is sold as liquid in a suitable container or liquid trucks.The application of industrial gases are used for pneumatic, cooling, refrigerant, beer additives, Refrigerator, lifting gas, medical gas, water treatment, fire-fighting ...
Industrial gases are those gases which we give you pure, gaseous or liquid, used in industrial processes, the medical industry and in other industries.
We provide the major gases such as
- Oxygen

- Nitrogen

- Cacbon dioxide

- Argon
Along with the selection of an optimal supply of gases, Sigma provides you with industrial gases with the understanding and variety support services.
Sigma can provide fast delivery and installation of industrial gas plants. Please contact us to know more details
SIGMA CO., LTD
Address: K47/8 Le Ba Trinh street, Hoa Cuong Bac ward, Hai Chau district, Da Nang city, Viet Nam
Tel: 0084 511 3602165
Fax: 0084 511 3624767
Business code: 0400636872
Email:
businesscenter@sigmagroup.com.vn
Website:
sigmagroup.com.vn