Industrial gas pumps

Gas pump is a pump used to move gas to markets in the production activities. They are common in many industrial plants today. Depending on the pressure to achieve that machine is also known as a fan, blower or compressors

Fans are machines to move the gas to the supercharged engine Ɛ <1.15 (Ɛ is the ratio between the outlet pressure and the inlet pressure of the machine) or pressure to achieve p <1500 mmH2O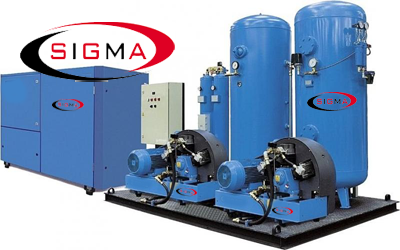 Blower is the machine to work with Ɛ > 1.15 or pressure to achieve p> 1500 mmH20, but no artificial cooling
Air compressor is the machine to work with Ɛ> 1.15 or pressure to achieve p> 1500 mmH20 and artificial cooling process where the compressor.
Typically, gas pumps are classified according to two principles
- Principles: the effect of the machine with the solvent in the process of working
- Principle: The nature of energy metabolism and structure
Considering the nature of energy metabolism and structure, gas pumps are classified into the following categories:
- Blades fans includes: centrifugal fans and tube-axial fans
- Compressor:
Machine leads way: centrifugal compressor and Axial compressors
Volumetric compressor: piston compressor, rotor
Jet compressor
The Sigma company currently offers a variety of air pumps for industrial manufacturing plants today. We offer nationwide, buying advice, installation and guide to use.
During the operation, may the machine happen many different incidents. We're committed to testing and periodic maintenance to ensure stable operation machines, achieve maximum efficiency possible.
A few notes to ensure labor safety when checking and maintaining
- When the test, avoiding looking directly at the point of danger of leakage;
- When the test, not standing too close to avoid moving parts, high temperature of the device;
- During the test equipment in the field, should select the appropriate position to see clearly the equipment and ensure safety.
To ensure that in all cases were safe about labor and handle incident the fastest please contact us for assistance.
SIGMA CO., LTD
Address: K47/8 Le Ba Trinh street, Hoa Cuong Bac ward, Hai Chau district, Da Nang city, Viet Nam
Tel: 0084 236 3602165
Fax: 0084 236 3624767
Business code: 0400636872
Email:
businesscenter@sigmagroup.com.vn
Website:
sigmagroup.com.vn