Vaporize rigs
Vaporize rigs is equipment which is very necessary for the gas industry. It's made from the main materials: aluminum alloys. It has main effects as: liquefied gas with a certain pressure, heat exchangers can be quickly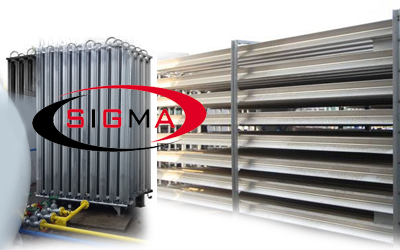 Used in the system and distribute liquefied gas at supercooled temperature (minus 196 degrees to -40 ° C), such as liquid oxygen (LOX), liquid nitrogen (ln2), liquid argon (LAR), liquid carbon dioxide (LCO2).
Applications in high-tech fields such as welding, steel, heat, food, electronics ... Functions: bring the temperature of equilibrium with the external environment before providing gas to the total system to bring gas to the point of use.
Vaporize rigs is lightweight structure and steady because of making from aluminum alloys. Depending on the needs and purpose what you use, Sigma will provide for our customers with Vaporize rigs products suitable to design.
Please contact us if you need to know more about Vaporize rigs
SIGMA CO., LTD
Address: K47/8 Le Ba Trinh street, Hoa Cuong Bac ward, Hai Chau district, Da Nang city, Viet Nam
Tel: 0084 236 3602165
Fax: 0084 236 3624767
Business code: 0400636872
Email:
businesscenter@sigmagroup.com.vn
Website:
sigmagroup.com.vn