Medical device and gas
Medical device

A medical device is an instrument, apparatus, implant, in vitro reagent, or similar or related article that is used to diagnose, prevent, or treat disease or other conditions, and does not achieve its purposes through chemical action within or on the body (which would make it a drug).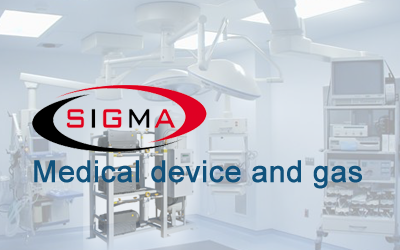 Demand for medical devices grows faster than expected in recent years,world market totalled $ 401.23 billion in 2015. Sigma supply a variety of medical devices such as pacemakers, insulin pumps, operating room monitors, surgical instruments, defibrillators, …
Medical gas
Medical gas supply systems in hospitals, and most other healthcare facilities, are essential for supplying piped oxygen, nitrous oxide, nitrogen, carbon dioxide and medical air to various parts of the facility.
Application of some medical gases
- Oxygen is one of the most extensively used gases for respiratory therapy and life-support and is additionally used in anaesthetic procedures.
- Nitrous oxide is used for anaesthetic and analgesic purposes, being mixed with air, oxygen, and nebulised agents.
- Helium/oxygen mixture is used to treat patients with respiratory or airway obstruction and to relieve symptoms and signs of respiratory distress.
- Carbon dioxide is used less commonly now as a respiratory stimulant, and for insufflation during surgery.
Sigma has been a quality supplier of Medical Gases, All products supplied for medical purposes are manufactured to the highest quality standards using the FDA's Compressed Medical Gases Guidelines and in strict adherence to USP and NF specifications.
Note:
Medical gases are not to be used for non-medical purposes.
Quality standards:
Considering the applications listed above, medical air has the status of "medicament". Therefore, it must be produced under specific condition and european frame defined by :
- EN ISO 7396-1 standard related to medical gases distribution systems
- The European Pharmacopoeia
- Directive 93/42/EEC on medical devices, which imposes the CE - Medical device mark Class IIa for all medical air production units
- ISO 13485 standard related to quality management systmes for medical devices industry
SIGMA CO., LTD

Address: K47/8 Le Ba Trinh street, Hoa Cuong Bac ward, Hai Chau district, Da Nang city, Viet Nam
Tel: 0084 511 3602165
Fax: 0084 511 3624767
Business code: 0400636872
Email:
businesscenter@sigmagroup.com.vn
Website:
sigmagroup.com.vn